Support through the pandemic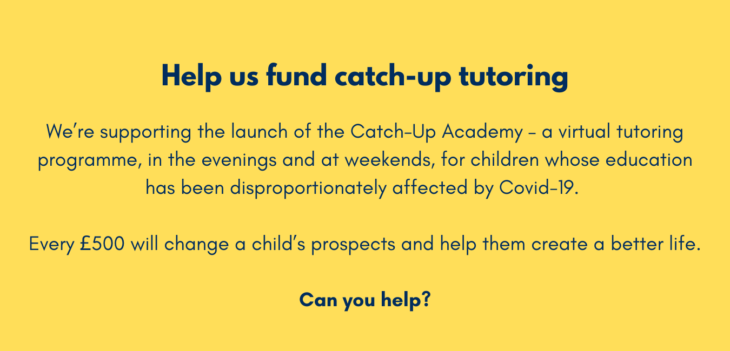 The learning gap between disadvantaged pupils and their peers in July 2020 was 46% bigger than it was a year earlier*
More than half of teachers in the most deprived schools say pupils are four months or more behind*
Young people in the disadvantaged communities we support have been disproportionately affected by the effects of the pandemic. We're working tirelessly to ensure they get the extra support they need and do not fall further behind in their studies.
Because of this, we are currently focussed on:
Covid-19 recovery – closing the learning gap through catch-up initiatives
equal access to digital distance learning
the mental health and wellbeing of students and teachers.
But, to deliver this extra support, alongside our core initiatives, we urgently need to raise more funds.
We're also looking for people and organisations who can give their time and/or resources.
How you can help support young people through the pandemic
Please get in touch if you can help with any of the following:
Covid-19 catch-up programmes: virtual tutoring and coaching academy
We are piloting a virtual tutoring and coaching academy, a squad of highly trained graduate tutors and professional coaches to provide bespoke additional support to students and their families and carers during evenings and weekends.
The pilot will only reach a small number of students and we urgently need to raise funds to establish a virtual tutoring and coaching academy capable of providing recovery programmes across each of the nine academies and colleges that we support. We cannot leave any young person behind.
The virtual academy's recovery squad will receive bespoke training to ensure that they are equipped to respond to the, often complex, requirements of the students and their support network of family, carers and friends. A permanent team will ensure the consistency and quality of support these young people need.
We are launching a campaign to raise £250,000 to deliver the additional catch-up education that they urgently need now. Every £50,000 we raise will help us to support around another 100 young people.
Gifts and donations to support home learning
The situation right now is uncertain. Many students will need to self isolate, and we have to be prepared for more lockdowns.
We urgently need:
laptops
tablets
dongles
mini portable web hubs
other solutions for distance schooling, for homes with no equipment or internet connectivity.
If your organisation refreshes their IT kit regularly, we would be keen to receive and refurbish any retired equipment.
While the Government's funding of equipment was welcome, it is not sufficient for schools with the high levels of disadvantage that we support. Our aim is to ensure that the most vulnerable do not fall further behind in their education and are able to take part in distance learning.
We will ensure the appropriate use and distribution of aid to those students most in need, across the school communities we support.
Funding towards mental wellbeing services
Many are struggling with maintaining their mental wellbeing in the face of the coronavirus pandemic and the many additional challenges it brings.
We need to ensure that staff and students:
feel comfortable in raising any anxieties or other mental health concerns
feel supported
receive, or are signposted to, further support where needed.
*National Foundation for Educational Research 2020