Support through the pandemic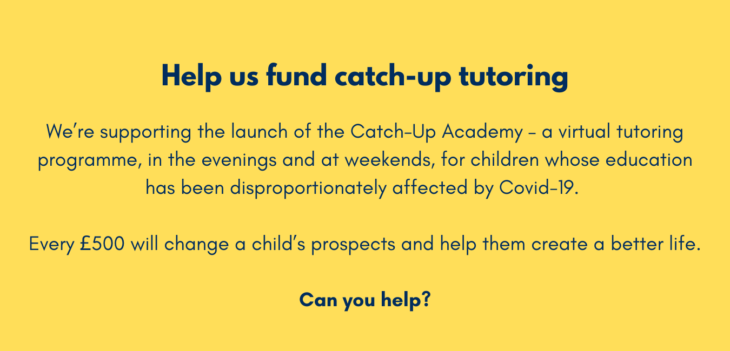 We're raising funds for our Catch-Up Virtual Academy – free tutoring to prepare the most disadvantaged students to achieve the best possible grades in their GCSEs.
It's a fact that poorer pupils are struggling most during the current school closures.
The latest research has revealed:
40% of middle-class children undertaking over five hours of schoolwork a day, compared to 26% of those in working class households.
Parents on lower incomes more likely than those on higher incomes to be finding the second full lockdown more difficult than first (28% vs 15%).
Teachers at the least affluent state schools likelier than those in more affluent state schools to report a lower standard of work than expected (55% vs 41%).*
Learning in lockdown has been a challenge for almost all young people and parents but, for some, the barriers they face are enormous. Circumstances out of their control mean they don't have a level playing field with other young people.
The young people that the Aldridge Foundation supports are living in some of the most economically and socially deprived places in the UK and we don't know for certain how long the schools are going to be closed. Every day is crucial, particularly for those in exam years.
About the Catch-Up Virtual Academy
The Catch-Up Virtual Academy is a virtual tutoring programme aimed at providing high-quality, tailored support to help children and young people to 'catch-up and recover' from the educational setbacks of the pandemic. Alongside this, we are also asking for gifts and donations to provide laptops and internet access for those without.
Participating students receive a weekly one-hour online tutoring session with an expert tutor and two other students from Aldridge schools. The tutors are in regular contact with the students' school teachers to adapt the learning to each specific group. The sessions take place in the evening after school or at weekends. While there will be no tutoring in designated holiday weeks, additional daytime virtual holiday bootcamps will be on offer for students to sign up to.
Students can ask their tutor learning questions outside of the session time using chat box functionality in Microsoft Teams and tutorials are monitored by staff to ensure that all content is learning focussed and appropriate.
Every £500 we raise will change a child's prospects and help them create a better life – and every £50,000 you can help us raise will allow us to support around another 100 young people to have an equal chance at catching up on their education. All donations are greatly appreciated and will help us to support more disadvantaged children.
And, if you can help with the following:
laptops
tablets
dongles
mini portable web hubs
other solutions for distance schooling, for homes with no equipment or internet connectivity
please do get in touch.
Thank you for your support.
*Sutton Trust Jan 21