Liam Dargan, former Darwen Aldridge Community Academy student [2006–2013]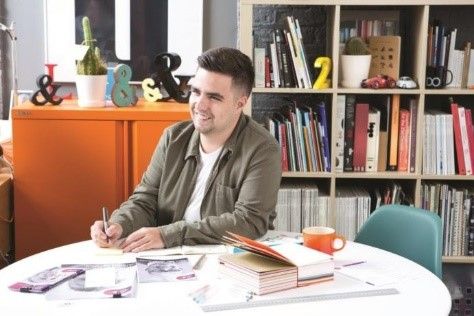 With the help of the Aldridge Foundation, not only was our education transformed, but our community was too.
The Aldridge Foundation's approach and support helped Liam to focus his creativity on benefiting his community, giving him the skills, the tools and the confidence to succeed as a professional creative. When Liam started at his local high school, the assembly hall had recently been burned down by arsonists. When it was eventually transformed into the Darwen Aldridge Community Academy (DACA), he recalls it wasn't just the damaged buildings that changed – the attitudes of his peers and the community shifted too. The Foundation's Aldridge Attributes were embedded into the curriculum, opening up opportunities for the students to be challenged in different ways and Liam's creative side really came to the fore.
"I think one of the major things that the Academy and the Aldridge Foundation facilitated, was the change in narrative around what it meant to be a young person growing up in Darwen, and what was possible for us to achieve. The opportunities we were exposed to shifted the attitudes and boosted the confidence my classmates and I. Suddenly we could go anywhere and achieve anything."
At first, Liam didn't really understand how having an entrepreneurial mindset could benefit him, beyond setting up a business. But he quickly realised how these new-found skills meant so much more.
I think the qualities of entrepreneurship: passion, determination, teamwork, risk taking, problem solving and creativity, are important foundations to many parts of life. They played a role across the whole curriculum at DACA, and continued to be relevant at university and even into my career. Not only did this way of thinking encourage me to take initiative, keep learning and make the best design projects I possibly could, but it also pushed me to think about being socially conscious – creating design that could help people.
While in the sixth form, Liam's enterprise skills developed further through the Foundation's programmes, and his creative talent helped him gain valuable freelance design work for local businesses and even Liverpool Football Club's Museum, before going on to study graphic design at Kingston School of Art.
Kingston may have been over 200 miles away from Darwen, but Liam's hometown was never far from his mind, with his final project being centred around Darwen Town Centre. Using his creative skills, Liam documented the plight of the market traders and community, amid plans to demolish one of the towns markets. After presenting his research and ideas, Liam partnered with the council to create Heart of Darwen, a platform which aimed to open up the conversation around the future of Darwen Market and Town Centre. In the years that followed, the project went on to influence the redevelopment of Darwen Market and the creation of the towns new Market Square. It also helped to make card payment technology more accessible to local businesses, won a Creative Conscience Award and continues to influence regeneration decisions today.
"I wanted to make sure community challenges and voices were placed at the heart of decisions being made about the future of the town centre."
Having graduated with a first-class degree, with a commendation for articulating debate in social design, Liam went on to become a service designer at The Connected Places Catapult. There, he continues to work with places across the UK and the world to solve challenges through research and design. Most recently, Liam has been working with eight historical cities across Europe, with the aim creating hubs of innovation and entrepreneurship through the use of community engagement and co-creation.
I'd like to thank the Aldridge Foundation and, of course, the great teachers at Darwen Academy for laying the foundations which went on to influence my career. Entrepreneurship skills will continue to push me and my design projects in the future. I'm really excited to find out where else they might take me.