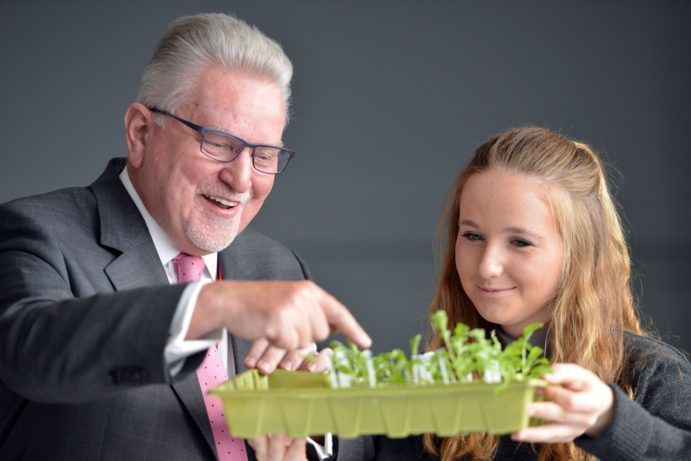 The Aldridge Foundation was first founded in 2006 by Sir Rod Aldridge OBE, a successful entrepreneur and philanthropist.
Sir Rod believes that where you come from should not dictate where you are going – a belief that remains at the centre of everything the Foundation does. He wants to help young people from disadvantaged backgrounds fulfil their potential, and to provide education and experiences that will level the playing field when it comes to confidence, life skills and opportunities.
The son of a metal worker, Sir Rod left school aged 16 with five O-levels. From his first job in the post room at his local county council, he worked his way up, growing skills, experience and qualifications along the way. In 1984 he created a hugely successful FTSE 100 company, Capita, built around an entrepreneurial culture, which he ran for 22 years, before retiring in 2006. Social mobility, and challenging expectations, are very close to his heart.
He puts his success down to resilience, teamwork and creativity – entrepreneurial traits that have helped him every day of his working life. He believes that every young person can benefit from developing an entrepreneurial mindset, alongside their education, which will prove to be a huge asset in whatever path they choose to take in life.
It's this entrepreneurial mindset that lies at the heart of the Aldridge family of schools and colleges. The first of which, Darwen Aldridge Community Academy, opened in 2008.
Sport is another passion of Sir Rod's, who sees it as key to building confidence, discipline and team working. Working in partnership with Sussex Cricket, in 2012, the Foundation launched the Aldridge Cricket Academy at the Brighton Aldridge Community Academy site, allowing young people to develop sporting talent and learn from the disciplines of sport alongside their academic qualifications.
In 2016, Aldridge Foundation established a multi-academy trust, Aldridge Education, which took over responsibility from the Foundation for the growing number of schools and colleges. This meant the Foundation could focus on its philanthropic work of helping young people, creating social change and community regeneration, and supporting the communities in which we work.
Between 2006 and 2016 the Foundation made significant steps in the Aldridge family of schools and communities:
Facilities: investing £12m to secure £300m funding to build better education facilities
Teaching: establishing Aldridge Education, a multi academy trust, supporting academic progress across eight schools, as well as one adult education centre, a free-standing academy and a further education college.
Our focus now is on initiatives to inspire, skill and mobilise the young people we support. Experiences and activities to activate ambition, develop core life skills, which we call the Aldridge Attributes, and to provide equal access to further education and employability.