Aldridge Foundation hosts 'World of Work Week' to help bridge gap between schools and business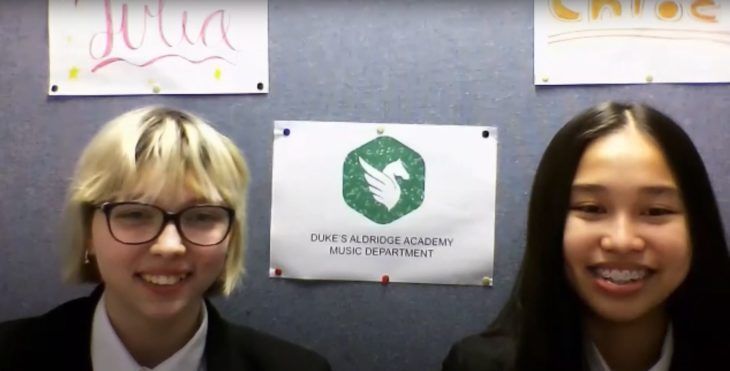 Themed around the creative arts, the most recent World of Work Week gave young people the opportunity to attend webinars on a range of different creative professions.
Representatives from TV, film, theatre, music, and more, all generously gave their time to tell students about their careers and their route into them. As well as the webinars, we also asked people to record a 'Day in the life' video about what it's like, day to day, in their job.
Shona Nichols, Chief Executive of the Aldridge Foundation, said: "Events such as these are so important, now more than ever, to keep young people's hopes and aspirations alive in such difficult times. There's a huge range of wonderful opportunities and careers out there, which we need to make young people aware of. And nothing beats hearing about them from the people that are doing them. I applaud and thank all those businesses and individuals who stepped up to help inspire and guide the next generation of creatives."
The Aldridge Foundation was built on the belief that no one should be held back by where they come from. We support young people from disadvantaged communities through school and into their careers, focusing on developing enterprise and life skills to realise their ambitions, reach their potential and create better life chances for themselves.
Many young people from a disadvantaged background do not have the same access to career networks, support and opportunities that others from more affluent backgrounds do, through parents, friends, etc. We have to do what we can to level the playing field, enabling social mobility and fair access. We would love to work with as many organisations as possible, who are willing to help us remove barriers, act as role models and share their experiences and advice.

Shona Nichols. Chief Executive, Aldridge Foundation
All the webinars and careers videos are available to everyone, in our World of Work hub, along with a growing bank of helpful career resources, further education information and links to the best online internships and work experience opportunities. Here you'll also be able to sign up to future industry webinars.
The next World of Work Week will be focussed on the sports industry (1-6 March 2021) but, whatever your profession, if you can help, or would like to know more, please email us at hello@aldridgefoundation.com.
Many thanks to all the organisations who contributed to this event – The Lowry, The Trampery, Burberry, Oatley, I and ME, Rewritten, 18 Degrees and F22 Group – and to:
Amelia Donkor – Actor, Writer, Facilitator; Julia Pond – Dance Artist and Facilitator; Sarah LeMieux – Composer, Performer and Educator; Michelle Concha – Artist Director at State of Play Productions and Educator of Theatre O; JC Candanedo – Visual Artist and Founder JC Candanedo; Wendy Carrig – Advertising and Editorial Photographer and Co-Founder of the f22 Group; Kwame Lestrade – Photographer and Filmmaker; Laura Huhta – Commercial Digital Operator and Retoucher and Assistant in Interiors & Still-Life; Kensington Leverne – Editorial Portraits and Interiors Photographer; Facundo Bustamante – Food and Still-Life Photographer; Jonathan Stokes: Travel, Interiors and Lifestyle Photographer; Chloe Rosser – Fine Art Photographic Artist;  Raphael Boamah-Asare and Shaneika Johnson-Simms – Filmmakers and Producers and Co-Founders of Asare Simms; William Bianchi – Scenic Artist; Java Bere – Illustrator; Matthew McGoldrick – Actor in training at Rose Bruford College