Aldridge Foundation launches Futures Hub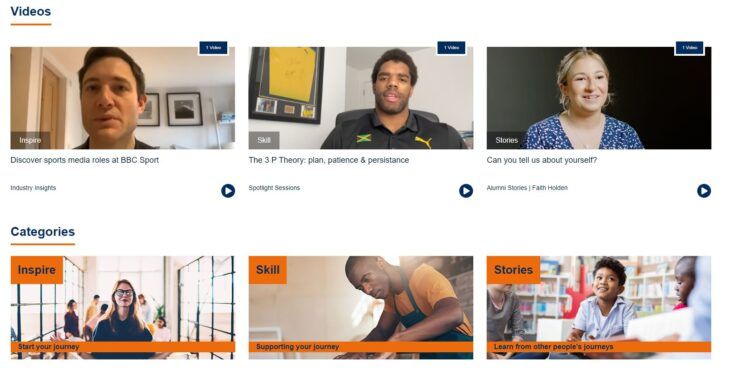 The Hub builds on our 'World of Work Weeks', launched at the height of the Covid-19 pandemic to ensure that the young people we support still had access to essential insights into different industries when internships, one-on-one career guidance and work experience placements weren't possible. Although the world is opening back up, we believe that there is still a need for this hub, particularly for young people from low wealth areas who aren't generally surrounded by professional role models and who might still come across barriers to accessing these types of opportunities.
The Hub gives young people access to tips and templates for their next steps, including insights in to different careers, CV templates, job interview tips, and advice on adjusting to university life. We'll also be encouraging Aldridge alumni to get in touch and share their own experiences and advice for the next generation on a wide range of themes, from budgeting to finding a career that's right for them and managing their mental health in the workplace or university.
Elineth Hernandez, Aldridge Alumni said: "The Futures Hub provides all the tools students need to begin to understand the world of work, not only by providing an overview of professional life, but also by giving young people a platform to share their own experiences with the next generation – it's something I would have found valuable when I left school and I hope that by sharing my own experiences, I can help others." 
We'll also be sharing Ted Talks, podcasts, and thought pieces on the future of work to help young people prepare for a rapidly changing world of work, where automation and hybrid working are becoming the norm.
Shona Nichols, Aldridge Foundation Chief Executive said: "By bringing together such a variety of information, resources and signposting in one place, we aim to open young people's eyes to the wide range of careers available to them and inspire and support them as they take their next steps beyond school and into work or further education. This easily accessible and relatable platform can help inform their individual paths to achieve their dream careers and have an equal chance a life, whatever their backgrounds and circumstances."
You can visit the Futures Hub here: futures.aldridgefoundation.com
If you or your business would like to know more and find out how you can get involved, please contact: hello@aldridgefoundation.com
About FROG Systems
Frog Systems builds online support platforms that combine lived experience video with signposting of help and educational resources to help individuals and communities live their lives better. The company has worked with the likes of Sussex Cricket on a bespoke mental wellness platform for fans and Stirling Council on a community hub for residents seeking information about local services. Their flexible and easy-to-navigate platforms allow users to find everything they need quickly and in one place. The Futures Hub it has created will provide the Aldridge Foundation with real-time anonymised data to understand the best way to support young people in the future.