Aldridge Junior Signature Art Prize – winners announced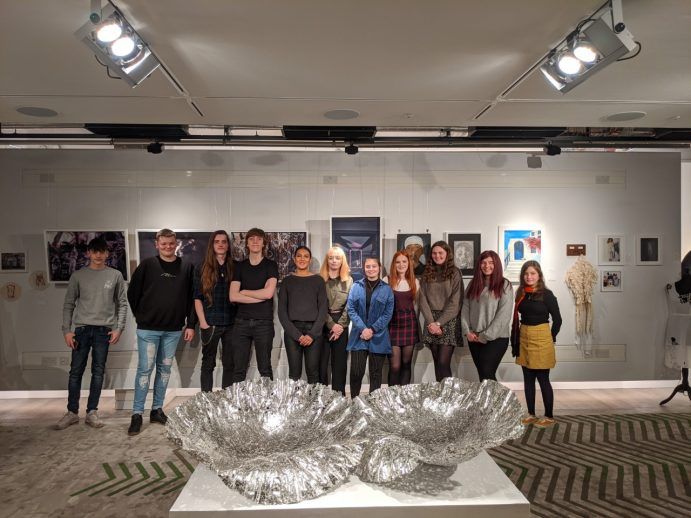 The competition, open to all students in Key stages 4 and 5 from across the family of Aldridge schools, is part of the Foundation's Inspire programme, offering students experiences to raise aspirations, build their confidence and inform their wider world view.
As well as having an invaluable opportunity to showcase their artwork and learn the processes behind entering work for professional exhibition, the finalists won a jam-packed day of art activities in London. This culminated in a private viewing of the finalists' entries in an exhibition at Bankside Hotel where the winners of an internship with Artellite were announced.
Thirty-nine entries were received across four categories – Fine Art, Photography, Film and Textiles & Graphics, with a panel of judges, including Foundation Trustee Lady Carol Aldridge, former Darwen Aldridge Community Academy student Khushna Sulaman-Butt, and Peter Gabriel, representative from the competition sponsor, Callsign, selecting the winners on a range of criteria from creativity and originality to quality of artistic composition.
On Thursday 13 February 2020, the 2019/20 finalists, representing Darwen Aldridge Community Academy, Darwen Aldridge Enterprise Studio and Kensington Aldridge Community Academy, travelled to London to find out who would be named as the winner in each of the four categories.
Whilst the judges deliberated over their final decision, the students enjoyed an intensive day of activities, which aimed to inspire them and open their eyes to different career opportunities in the art world and encourage them to continue pursuing their passion no matter what the result of the competition.
The day began at Somerset House where students heard from the Curator of Gallery 31, a new permanent exhibition space dedicated to profiling work created and developed through Somerset House studios and residencies.
The party then enjoyed the 24/7 exhibition, a thought-provoking, interactive exhibition exploring the non-stop nature of the modern world before making their way to the Bankside Hotel where they would get a first look at their artwork, which was hung beautifully alongside the main competition.
"The range of artwork, styles, size and concepts on display at the exhibitions really opened my eyes to what different ideas are out there."
Aphrodite Themistokleous, Aldridge Junior Signature Art Prize Finalist from Darwen Aldridge Enterprise Studio.
Students were blown away at seeing their artwork presented in a professional setting and wasted no time in taking photos alongside their pieces.
Following lunch and a whirlwind trip to the Tate Modern the students arrived back at the Bankside to find the previously empty exhibition space now full of guests including Sir Rod Aldridge, Aldridge Foundation Trustees, funders and supporters. There was a buzz in the air as guests were welcomed by Lady Carol Aldridge, who handed over to Isobel Beauchamp to announce the winners as follows: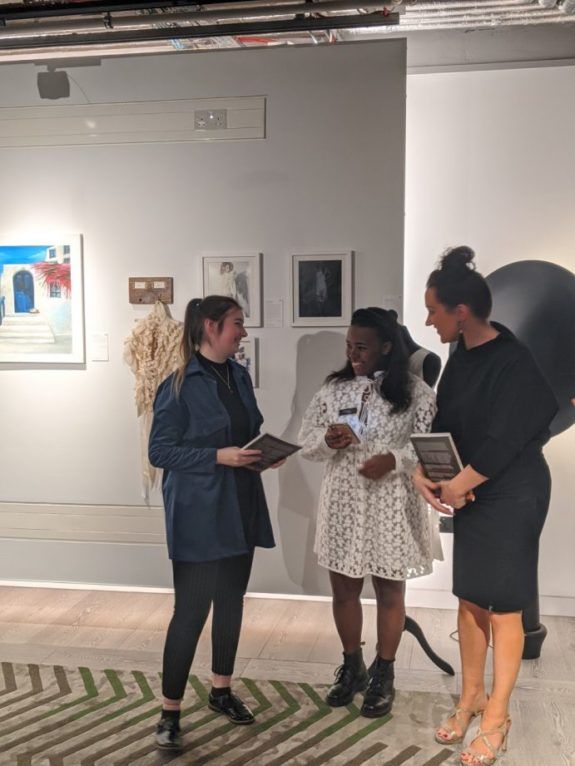 Textiles & Graphics:
Azel Davies, Darwen Aldridge Community Academy
'Fight or Flight'
'Taking part in the Junior Art Prize has made me feel really lucky and when I saw my work up it made me feel really proud and overall amazing. It's a once in a lifetime opportunity'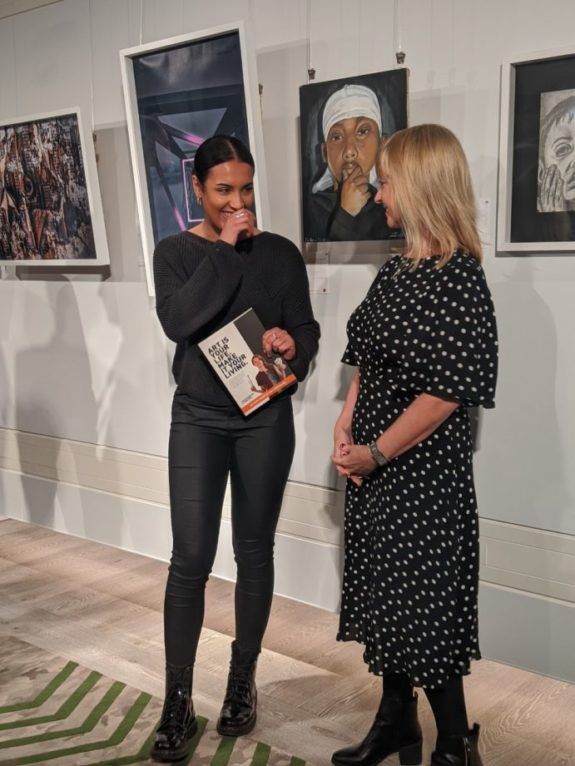 Fine Art
Salma Kossari, Kensington Aldridge Academy
'The Boy In The Durag'
When I found out my work got shortlisted I felt really proud of myself and excited to find my piece hanging on the wall at the exhibition. It's the first time I've ever had the opportunity to do this and I am definitely thankful that I was encouraged to submit my work.
Salma's winning entry and other artwork can be viewed on her Instagram page: @kossariselection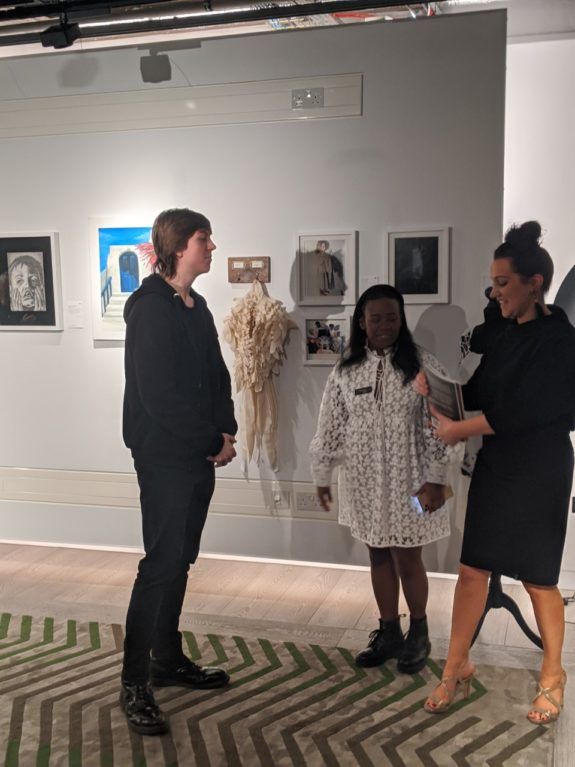 Photography
Aedan Clarke, Darwen Aldridge Enterprise Studio
'A Burnt Engine'
"people have approached me for private commissions, which could sway my career to photography at a professional level."
Aedan's shares his artwork on Instagram @kaelin_clarke_art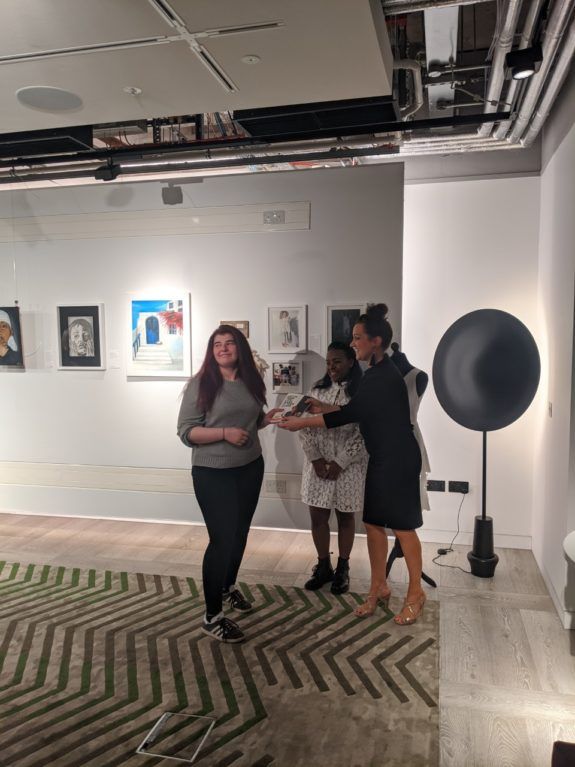 Film
Rachel Angela Guest, Darwen Aldridge Enterprise Studio
'Split Second'
When I filmed the Split Second film it led me on to want to do it [study film] at university.
I got offered to show it here and now I am actually going to university to do film so it's given me the experience and has been really helpful for my future.
Each of the winners has been offered an internship with Degree Art at Somerset House and many of the students artwork was sold on the night.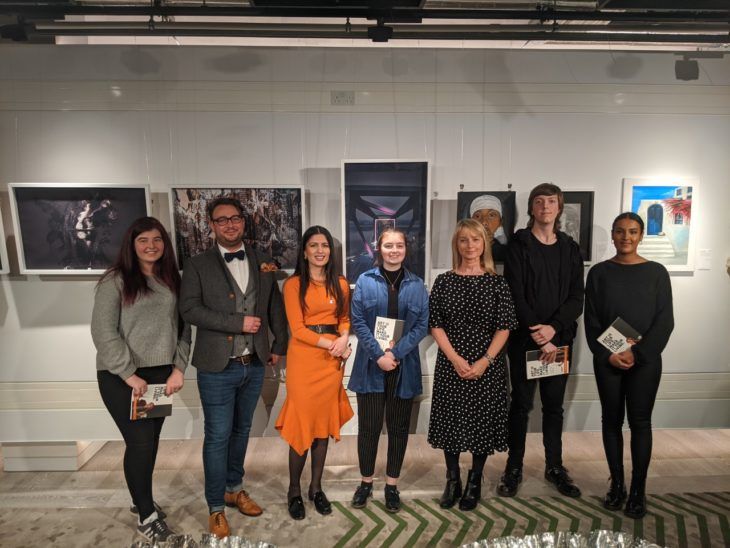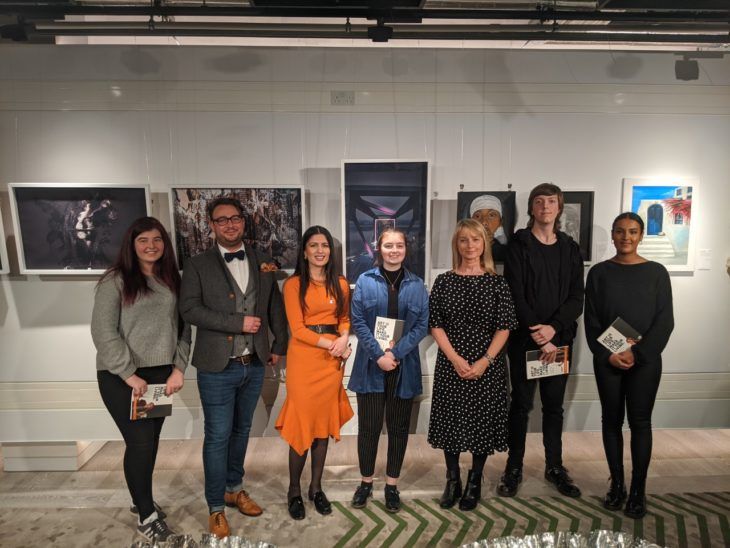 Pictured: The 2019/20 Aldridge Junior Signature Art Prize Winners with competition judges Peter Gabriel, Callsign, Khushna Sulaman-Butt, Aldridge Graduate, and Lady Carol Aldridge, Aldridge Foundation Trustee.
Isobel Beauchamp Director & Co-Founder, Artellite Ltd said 'We have absolutely loved the whole concept of introducing the Junior Prize, which really resonated with our guests and clients alike and was reflected in their genuine appreciation of the students' artwork and their desire to own it, as well as to support and encourage these talented young artists to take their passion further.'
Foundation Chief Executive Shona Nichols said: "Our first Signature Art Prize has been a great success, opening students' eyes to the career opportunities in the art world and inspiring them to aim high and take their aspirations to the next level. The Foundation looks forward to continuing working with both Artellite and Callsign, who share our commitment to providing young people with experiences that open their eyes and widen their horizons." The 2020/21 Aldridge Junior Signature Art Prize will launch later this year and we hope to encourage even more students to enter the competition, as it is clear from the feedback received that this is a very special experience that has the potential to open doors and impact the futures of our students:
"It has made me realise how amazing my work is.'" Bryan Gomez-Martinez, Darwen Aldridge Enterprise Studio
"Experiencing having my work in an exhibition has inspired me to push to get my work in to more competitions and gallery exhibitions.' said Connor Quayle, Darwen Aldridge Enterprise Studio. Connor added that he would encourage other students to apply because 'it is a new experience and important for up and coming artists which will help them in their career."
"I felt really proud that my work had made it to the list but I was extremely nervous about meeting and talking to new people about the process. English is my 3rd language and I find it difficult to explain myself sometimes. But given the opportunity to display my work in a professional context felt amazing.' Aphrodite Themistokleous, Darwen Aldridge Enterprise Studio 'I was surprised and really appreciative of how many people turned up to our small exhibition and the fact that people were genuinely interested in our work."
"The competition has given our students a real insight in to how industry exhibitions work and already one of our students has sold a piece their artwork and what that means to that student, you can't really describe it. As a teacher and as a school we are extremely proud that our students have been given this opportunity." Jon Irwin, Photography Teacher, Darwen Aldridge Enterprise Studio