Developing confidence through cricket and camping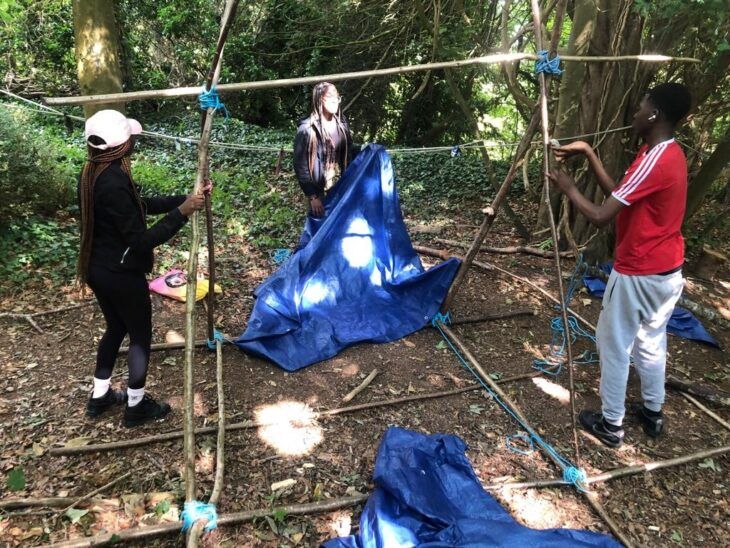 Building on last year's pilot, two groups of 13 – 15 year olds from Duke's Aldridge Academy headed south for a three-day residential stay hosted by Arundel Castle Cricket Foundation (ACCF). One half of the group slept in dormitory style accommodation and the other half camped on ACCF's grounds – a new addition to the programme.
The experience, combining sport and adventure challenges in the surrounding woodland, helps young people to develop the Aldridge Attributes. As well as practicing their batting and bowling skills, the students enjoyed the peacefulness of the countryside, visited the beach and explored the stunning Arundel Castle and gardens, learning about the history of the area.
For many students, this was their first time away from home and they embraced the opportunity to try lots of things for the first time – cricket, yoga, bushcraft – as well as the change of environment and slower pace, to connect with each other and themselves among beautiful green surroundings.
Here's what the students had to say about their experience:
"Being away from home makes you think differently. I've become more independent and started taking responsibility, doing things for myself."
"We've spent lots of time outdoors, forest walking and toasting marshmallows on the campfire. I've seen the stars and woken up to a beautiful view. I've forgotten about my phone and it's helped me to concentrate."
It's taken us out of our comfort zone. We learnt a new game and met new people through it. The experience has brought us closer together.
Tim Shutt, Director, Arundel Castle Cricket Foundation said:
"It was a pleasure to welcome the young people from Duke's Aldridge Academy to our base here at Arundel Castle. Without exception, the group embraced all the activities, often coming out of their comfort zone in doing so. I am delighted that our partnership with the Aldridge Foundation continues to go from strength to strength."
Cecil Cameron, Assistant Principal, Dukes Aldridge Academy said:
"Our students have had the opportunity to be away from their comfort zones such as home, the academy and the local environment to be in a place of tranquillity – a place that most, if not all, famous cricketers from around the world have been to play – on Arundel's historic pitch. Students have been welcomed by the staff at Arundel Castle Cricket Foundation with open arms and they are the individuals that make this such a great residential for our young people."
"Students leave Arundel having built their self-confidence, resilience and determination and in some instances developing a passion for the game of cricket! We do hope we will be able to give young people more opportunities like this in future."
Shona Nichols, Chief Executive, Aldridge Foundation, said:
"This experience gives young people the chance to explore new environments, meet new people and discover new skills. The combination of sports and outdoor activities, two of the Foundation's main programme areas, positively benefits young people's health and wellbeing, whilst also helping them to increase their self-confidence and develop core skills such as team-working, problem-solving and considered risk-taking."
We look forward to continuing our partnership with Arundel Castle Cricket Foundation to give even more young people, whatever their background, an equal chance to develop key life and employability skills during their time at school, so are looking for funds to help this happen. If you can help in any small or larger way, please follow the link below: