Ex-Aldridge Cricket Academy student signs pro forms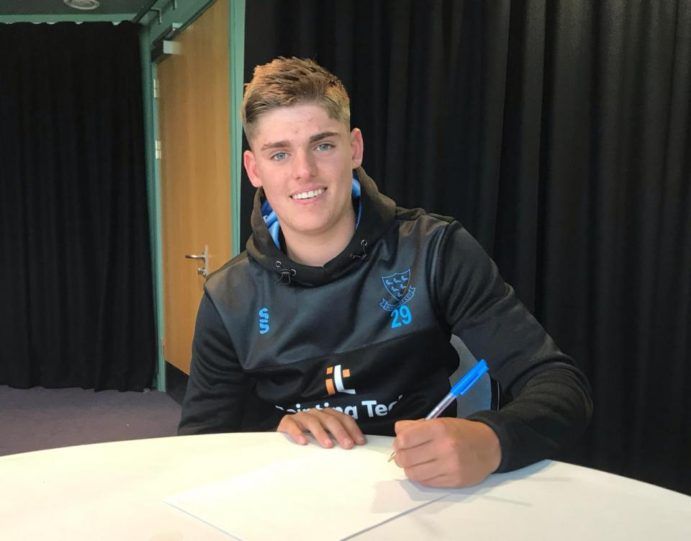 Will, a left-arm seam bowler, was first called up to the Sussex 1st team last April their opening Championship match of the 2018 season while still in his final year at the Academy. The 18-year becomes the first graduate of the Aldridge Cricket Academy to join Sussex's men's playing staff, following in the footsteps of Portslade Aldridge Community Academy 's Tara Norris, who first played for Sussex Women as an ACA student in 2016. In 2018 another former ACA student, Liam O'Brien, starred for England in the Vitality IT20 Physical Disability Tri-Series campaign, scoring 60 and taking 2-31 with the ball on debut v. Pakistan.
Sussex Cricket works in partnership with the Aldridge Cricket Academy, which enables male and female pupils at Brighton and Portslade Aldridge Community Academies to combine their academic studies with an intensive cricket development programme.
Reacting to his deal, Will said: "I am over the moon to have signed my first contract. It's such an amazing feeling to know that the hard work has paid off and I can't wait to get going this summer.
"I've had a lot of great help to get me to this point, both from the Sussex Cricket pathway and also the Aldridge Cricket Academy which was invaluable in helping me develop my skills through my time at BACA College."
"There's still a lot of hard work to do from here, but I'm looking forward to getting stuck in alongside the rest of the squad."
Sussex head coach, Jason Gillespie added: "Sheff is a great kid who has worked extremely hard to get to this point in his career and he really deserves this opportunity. He has carried himself really well around the group both here at Hove and on last month's tour to Cape Town."
"His performances out in South Africa were impressive and his approach was spot on. We're all looking forward to working with Will over the coming season and helping him continue his development."
BACA Principal Bob Speight said: "We are delighted for Will and wish him every success with Sussex. His contract is deserved recognition for the hard work he put in while at the Academy, and that of our coaching staff, led by Alexia Walker, who have helped him."
"In the last few weeks another former student, Jordan Shaw, has made his debut for Sussex in the friendly against Hampshire and ex-ACA player Tom Haynes recently opened the batting for Loughbourgh UCCE against Leicestershire. The Aldridge Cricket Academy at BACA is providing a great route for state-school students to succeed at a high level in the sport, and we are excited about opening up those opportunities to younger boys and girls with the launch of our Junior Cricket pathway from this September."
Will Sheffield opening the bowling for ACA v MCC XI @ BACA in 2018.