Former UTC students impress Oscar-nominated Director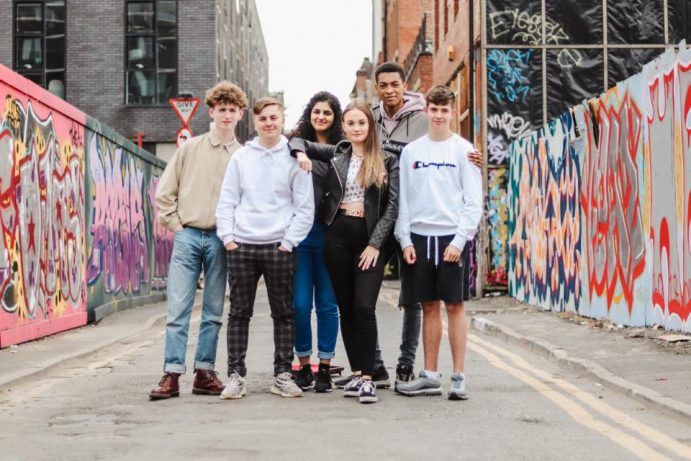 Their film follows the fractures which emerge among a group of friends who each seek to absolve themselves of responsibility for the death of a peer at a Manchester house party.
Issues of trust, peer pressure, personal demons, mental illness, teen alcohol and drug use are explored as each character responds to the dilemma with their own method of self-preservation.
Kylo Robinson, 17, who wrote the screenplay, directed and acted in the film, said: "It is very much edited in the style of a Quentin Tarantino movie, so elements of the story are pieced together at different moments revealing the true version of events slowly.
"Until then it is hard to see how each character's actions relate to their friend's death, and their versions of the night in question are there to be trusted or questioned by the audience."
The group commissioned the drummer of rap artist Drake to create their film's soundtrack. Musician Adrian Bent provided his services for free to the group, as did more than fifty other young film students across Greater Manchester.
Oscar-nominated Netflix director Jamie Donahue, who brought supernatural thriller 'The Innocents' starring Guy Pearce to the online platform, mentored the group of students through their production process.
He will attend the premiere of 'Mortem' alongside executives from the UTC's BBC and ITV neighbours.
Mr Donahue said: "The guys are an inspiration for their generation and community. I believe they are destined for huge success in the industry. From the moment I met Kylo and his team I was beyond impressed by their determination, passion and talent."
The six budding moviemakers Robinson, Kenny Bryce-Clegg, 17, Aliyah Khan, 18, David Hughes, 18, Sam Fitzjohn, 21 and Kirstyn Sutton, 19, – who have since formed their own production company Kamfilm – spent a budget of £2000 on the production of their gripping 20-minute film. The company has set up base in the UTC's AldridgeCreates business centre.
UTC@MediaCityUK's head of film production studies Andrew McKenzie said: "To have been on the side-lines and witness the project grow and in turn see three students grow into filmmakers has been a privilege.
"UTC@MediaCityUK has been designed to create an environment that supports learners, it encourages collaboration, teamwork and productivity so it's great to see that in action."
The trailer for 'Mortem' is available to watch on YouTube
Report courtesy of Entirely North West