Foundation celebrates DACA's 10th anniversary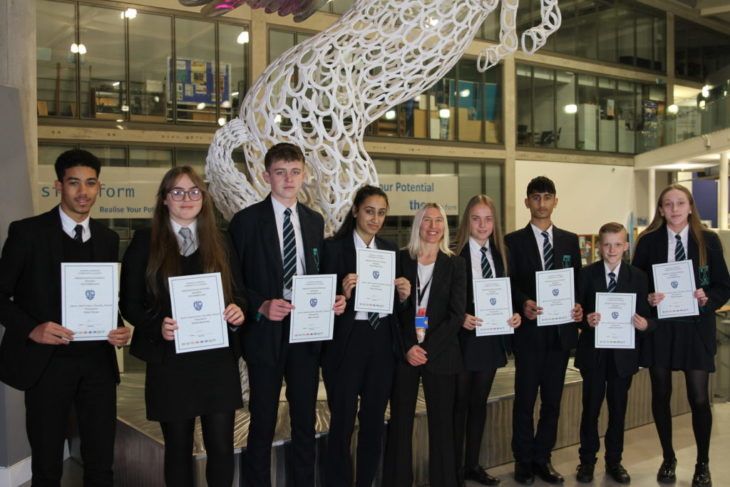 Principal Lisa Dolan welcomed the Mayor of Darwen Cllr Roy Davies, Mayoress of Blackburn with Darwen Cllr Pat McFall and Lady Mayoress Rona McFall to the academy. Sir Rod Aldridge and Lady Carol joined over 400 parents, students and representatives of local businesses at the event, which saw prizes awarded to pupils from years 7 to 10, and special recognition given to the achievements of last year's GCSE and sixth form students.
Sir Rod Aldridge told the audience: "I chose to become a sponsor of academies because I believe in the importance of education and the right of every young person to have access to a top class education. To fulfil that wish it was my choice to come to Darwen for the first academy that I ever sponsored and I am so pleased that I did!"
Reflecting on the lengthy process of building and opening the academy Sir Rod highlighted the community as well as the educational vision for the school, and the impact that has had: "In transferring our ideas for the academy into action we designed the concept of the business pods that now sit on the entrepreneurial bridge behind me. This was revolutionary at the time and still is today. From these pods more than 100 student-led commercial and social businesses have been started, along with 70 by members of the community. Darwen Creates has also provided adult learning on entrepreneurial start-up programmes to more than 500 people in the immediate community."
Looking forward he concluded: "I feel It is always important to remember where we have come from over the past decade but each and every one of you in the room are now the future of DACA and you will create your own history. Be proud of your achievements as a result of being a student at DACA.
DACA is special. It has a huge role to play in the community and this is right because it belongs to the community. Together I believe we have created a very special community asset that will stand the test of time."
In addition to awards presented to students of all ages for excellent performance in a wide range of subjects special Lead Student Awards were given to Head Boy Jack Prince and Head Girl Abigail Townsend. The Pegasus Awards for Entrepreneurship went to Bailey O'Hara, who raised money for the Little Princess Trust to provide real hair wigs free of charge to children and young adults who have lost their hair due to cancer treatment and other illnesses. Former student Liam Dargan, was recognised with a special award for Entrepreneurship over the past ten years for leading the Heart of Darwen project, which aims to create a sustainable vision for Darwen town centre.
In her talk Principal Lisa Dolan said: "What impressed me and continues to impress me most about DACA, is the sheer range of opportunities here for students to succeed and excel both inside and outside of the classroom, and the difference this makes to our students lives. I have worked in an outstanding school which did not offer half of what we do here at DACA."
DACA students are able to set up their own businesses, to be trained how to think like an entrepreneur and are able work directly with the business community. They can visit the Yukon or Uganda in the sixth form through our charity work with Afridaca, they can take part in football and netball academies, get involved in the Duke of Edinburgh's awards scheme, give back to the community through extensive charity work, with the Darwen food bank and our pensioner's party. Students' art and photography work here is absolutely second to none.
They deserve the best and should get the best. The potential here for the next 10 years is amazing for the Academy to continue to be a beacon at the heart of Darwen."