Harnessing the power of sport to change young lives in Kenya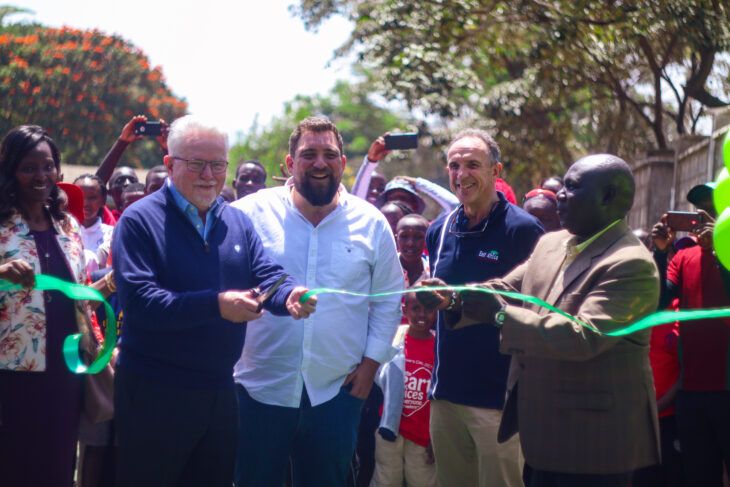 Spanning over 20 countries including Kenya, Tanzania, Uganda, Rwanda, Burundi and South Sudan, East Africa is experiencing its worst economic crisis in decades after the COVID-19 pandemic, with millions of people losing their jobs and incomes. Extreme poverty, food insecurity due to rising prices and climate change and recent conflict in South Ethiopia have blocked access to education for millions of children and young people. According to 2021 research, over 61 million children in sub-Saharan Africa will reach adolescence without the basic skills needed to lead successful and productive lives.
With such a complex educational crisis facing the region, some of you may be wondering: "how will a new cricket centre help?"  
Anyone who knows me understands my belief in the power of sport to help young people overcome even the most academic challenges and to develop a diverse range of life skills. As we're seeing right now with the Russian war on Ukraine and its impact across all sporting fronts, sport has a unique ability to shine a light on major challenges that people are facing, no matter how big or small.
At age 11, I failed a critical national exam which determined my path to secondary school and higher education. Despite this early academic disappointment, I discovered a passion and interest in dance which helped me develop confidence and taught me a lot about working hard and practicing being good at something. I danced competitively from the age of seven to 20, performing at huge venues including the Royal Albert Hall. I didn't realise it at the time, but I gained an awful lot from it and developed important life skills such as courage and resilience which helped me succeed in my life and career.
Through the work of my Foundation, which supports over 7,000 young people across the UK every year, we help young people to unlock their talents and develop important life and employability skills through activities such as cricket, dance, and creative arts. Society tends to focus on academic learning and whilst no one should leave school without learning the basics, I think it's just as important that everyone is given the opportunity to develop their interest and discover their desire to learn outside of the classroom.
I believe that all young people deserve an equal chance at life and that's why the Aldridge Foundation supports young people from some of the most challenging communities in the UK.
We're equipping young people with the skills, self-belief and mindset to create opportunities for themselves and ultimately have a positive impact on their communities. EACDT share this belief and that's why the Foundation is supporting the expansion of their work, through funding two cricket centres in Kawangware and Donholm, where over 400 boys and girls receive cricket training and character-building activities every week. EACDT's Character Development Programmes teach essential character traits for personal development, helping young people to progress and succeed in life and draw on the dynamic, complex nature of cricket to teach them the value of strategic thinking, patience, self-control but also physical courage and risk-taking.
EACDT currently engages with 6,000 pupils through seventeen schools in Nairobi, many located in the poorest slums and facing a constant, uphill struggle through chronic overcrowding, a lack of resources and many other every-day challenges.
The building of the new Aldridge Character Through Cricket Community Cricket Centre at Unity Primary School is the latest milestone in our efforts to help the EACDT reach more young men and women from disadvantaged communities in Nairobi.
Their programmes have helped thousands of young people such as Kennedy "Kennette" Katiwa, who received cricket and character development training from EACDT through his primary school in Kangemi, one of Nairobi's notorious slums.
Shortly after discovering his passion for cricket, Kennette's family faced tragedy with the death of his mother, plunging him, his father and his four siblings into poverty and seeing them evicted from their home. Despite his brothers and sisters succumbing to the stress in different ways – dropping out of school or turning to drugs – Kennette has proved more resilient. He attributes this to the EACDT who had taught him character skills he was able to use to conquer most of the challenges he faced and support his younger sister.
Kennette is full of curiosity, enthusiasm, gratitude, optimism, perseverance, self-control, and social intelligence and is liked by everyone he meets. His dream is to study neurosurgery, biostatistics, or biomedical engineering. His other ambition is to play cricket for Kenya at Lord's. He is a shining example of all that is good about EACDT's mission and their work to develop young people's skills beyond the classroom.
We can't ignore the reality that traditional education is something unattainable to millions of young people in East Africa, but EACDT's work, and the building of this new cricket centre will help to unlock the desire to learn and succeed for hundreds of young people in the area. It will also continue the Aldridge Foundation's efforts to bring hope and opportunity to disadvantaged young people in the UK and beyond. We look forward to building on this programme and expanding its reach over the coming years.
Sir Rod Aldridge OBE, Chairman