Incredible ideas from young entrepreneurs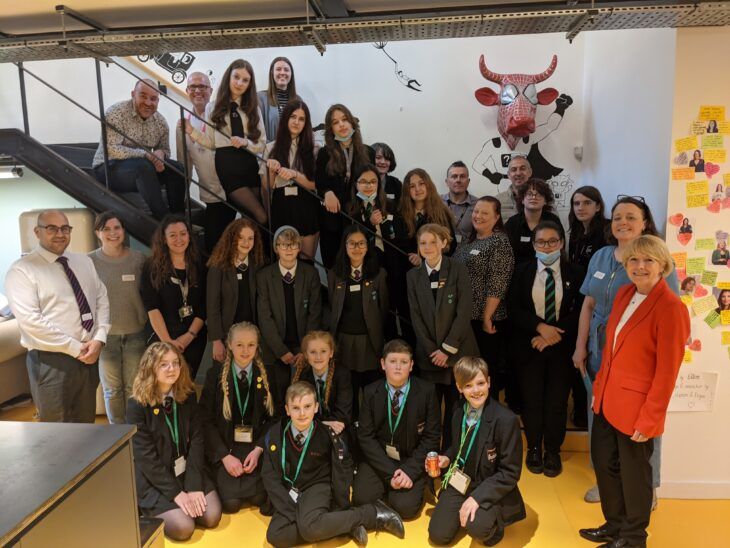 Following a one-day Social Enterprise Bootcamp, designed and facilitated by Startup Sherpas in partnership with the Aldridge Foundation, young people completed regular 'missions' over a three-month period, exploring topics such as branding, marketing, customer profiling and pitching, to come up with new and innovative business ideas to solve some of society's biggest problems. Teams were selected from across each of the participating schools to attend a celebration event hosted at ?WhatIf! Towers, which culminated in young people pitching their ideas to entrepreneurs and business leaders.
Throughout the day, young people took part in group activities to help increase their confidence and encourage their creativity. They also got to meet entrepreneurs and business leaders from large, well-known corporations including Accenture, Natwest and Taylor Wessing, to discover some of the career pathways available to them when they leave school and learn what working in an office setting is all about. Finally, they delivered their pitches to a panel of judges who gave them encouraging feedback and tips on how to sell their ideas.
Young people delivered brilliant pitches on a range of subjects, including a moveable oven – Moven – from Darwen Vale High School (DVHS), new ways of tackling fake news on social media – Face the Facts – from Darwen Aldridge Enterprise School (DAES), and period-proof swimwear – Array Swimwear – from Aldridge UTC in Media City UK. These winning pitches not only demonstrated new ways of thinking about problems that children growing up will face in the 21st century, but also great sales and business skills from the students presenting them to the panel. View all of the pitch presentations here.
As well as coming up with some unique ideas, the young people participating in the programme developed important employability and life skills.
They can only aspire to things they know about, so what we try to do is open their eyes to as much as possible. What I'm hoping we're doing is really nurturing creativity and the braveness to be innovative, and to build key skills across the students: teamwork, problem-solving, passion, creativity, determination, and considered risk taking, to have a positive impact on themselves, their families, their communities and the wider world.

Shona Nichols, Chief Executive, Aldridge Foundation
The young people enjoyed themselves and learned a lot from the day, with Charlotte, a student from Darwen Vale High School saying "I used to not be confident. I've completely changed how I say things and what I do, which gives you a big confidence boost in the world", while Daniel also from Darwen Vale High School said "being in London makes me realise how vast the world is and how I can use it to my advantage". Alex, a student from UTC@MediaCityUk, said "I now have the confidence to go start a business in the future with my team".
Huge congratulations to all of the young people who have taken part over the last three months, and a big thank you to Startup Sherpas and all of the businesses and individuals who took part in the day and helped our students understand the world of business and how their ideas really can shape the future.