Khushna exhibits at the Saatchi Gallery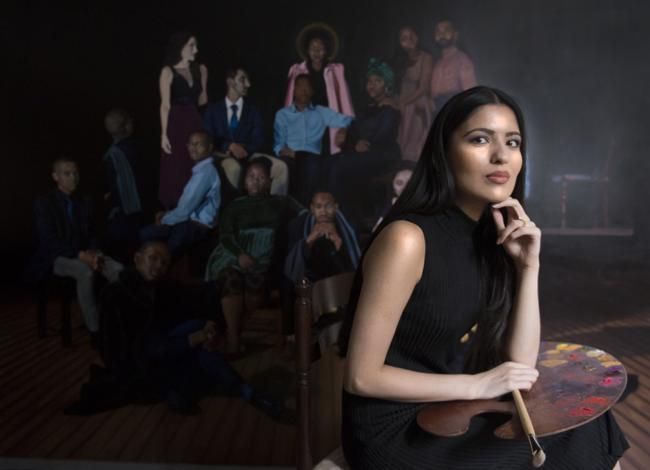 Since then Khushna's career has continued to flourish and she has recently been selected to show her work at the Saatchi Gallery, world famous for its contemporary art exhibitions.
You can read more from the Lancashire Telegraph below:
A Darwen artist has spoken of her pride after being chosen to exhibit her work at London's prestigious Saatchi Gallery.
Khushna Sulaman-Butt's art features alongside some of the best work from top Art Universities and was curated by Victoria Cantons for the works displayed by Slade School of Arts students.
University of Oxford Fine Art graduate Khushna, 25, said, "Exhibiting at the Saatchi alongside other talented graduates, from leading London art schools, feels important to me, as our works all seem to tease out conversations of identity, togetherness and unity.
"A show like this is an important experience for graduates as it helps bridge the gap between leaving art school and working with people in industry and commercial galleries.
"In my painting Ascension I focus on dynamic compositions and principles of colour to examine a traditional approach, challenging the boundaries of this medium to probe its behaviour as both evocative and confrontational – 'Who or what in every sense controls the way in which we look?' "This is of particular interest to me – whether that is a change in body language when addressing authority, the look we put on when we know we are being watched or the control of the artist conscious gaze dancing between subject to picture and back again."
Khushna, who studied at Darwen Aldridge Community Academy from 2008 to 2013, said she aimed to put her subjects in a position of liberation as they are given 'freedom to dress, pose however they feel confident'.
"As a society, we are constantly in flux, but at our core we remain the same and connected.
"I want my sitters to reclaim their identity, sexuality, and their religion and the values they place upon themselves.
"There is a formality to painting and portraiture as you become more aware of your place in society, and your responsibility in the world when looking at a piece of work.
"I feel like I'm constantly more and more aware of the notions around visibility and what that means when creating or viewing a portrait and my position recently feels like I'm a conduit for my sitters to be seen."In August Khushna exhibited her work at the Kristin Hjellegjerde Gallery and has already been booked for the Bloomsbury Festival 2020, which will run in October.
Khushna is one of a number of students who have described the impact of an Aldridge education on their lives in their own words for our website. 
Picture and story cutting courtesy of the Lancashire Telegraph