Sir Rod Aldridge Cricket Centre hosts MCC game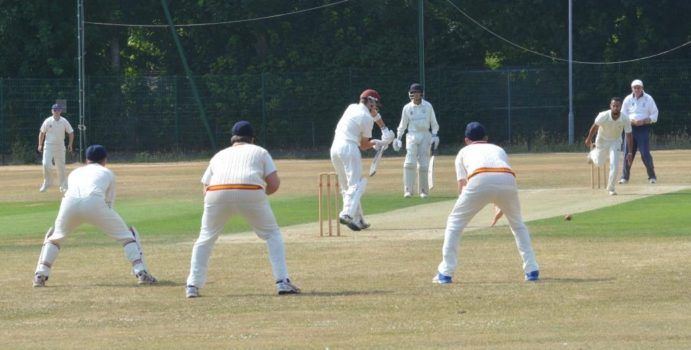 The MCC Foundation launched a new Cricket Hub for Brighton hosted at the Cricket Centre at last year, and marked the success of that by arranging a unique fixture against a state school team.
Despite the exceptionally dry weather of recent weeks the Sussex Cricket Ground staff, who oversee the playing surface at the Centre, produced a fantastic wicket and the pace of BACA student and Sussex Academy bowler Will Sheffield was clear to see from the first over.
The Aldridge team put in one of their best ever performances with the ball, reducing the strong MCC side to 85-7 in the first 20 overs. ACA right arm medium pacer Chris Barnett delivered a very accomplished spell of 12 overs, 6 maidens, 28 runs and 5 wickets, and Will Sheffield took 2 wickets for 15 runs in 9 overs (4 maidens).
A couple of solid partnerships involving Dan Joseph and a well judged 45 from Sam Rattle enabled the MCC to reach a competitive total of 184 in 50.5 overs.
In reply the ACA played well against a very quick opening bowler who is trialling for Scotland currently. Year 12 students Morgan Lapina-Amarelle and Connor Griffiths appeared in control of the run chase until the latter took a nasty blow to the hand and retired hurt. From then the run chase became increasingly difficult and only three batsmen managed to make it to double figures for the ACA team, who were eventually bowled out for 112 in 36 overs.
ACA captain Will Sheffield said: "It was a great experience to play in such a prestigious fixture against an MCC team." In his second year at BACA, alongside playing cricket Will is studying for a BTECH in Sport with a subsidiary diploma in Sport & Exercise Science. He plans to go on to university to study Sport and Exercise Science.
"The Sir Rod Aldridge Cricket Centre's facilities and the teaching are incredible: you don't just get coached in what to do – you're taught how and why as well. So you learn to think creatively about the game" he added.
Aldridge Cricket Academy Director Alexia Walker said; "The day was a resounding success with numerous guests from Sussex Cricket, Brighton and Hove Council and local Primary Schools all coming along to see our exceptional Cricket Centre at BACA and to enjoy a great match which really tested the skills of the young Aldridge team."
The MCC Foundation recently published a report into the first year of the Brighton Cricket Hub at BACA which praised the Hub's success saying: "Considering this Hub is very much in its infancy, it is already one of the strongest in terms of the overall standard of participants, facilities, and coaching."
Will Sheffield bowling for Aldridge Cricket Academy v MCC XI