Vote for Aldridge – help all young people build a better future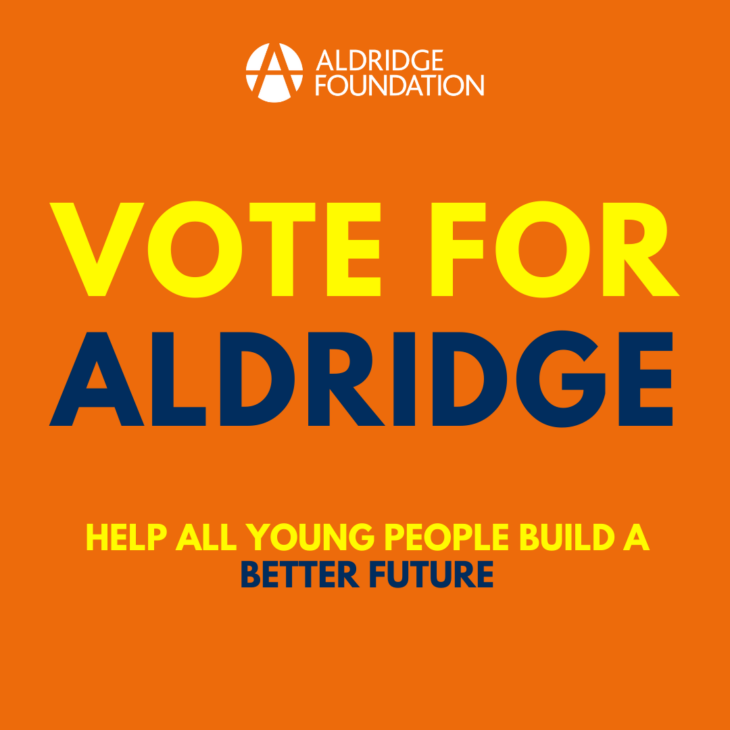 Persimmon Homes North London is backing the Aldridge Foundation to be a prize winner at a special event later this year, where cash awards of £100,000, £50,000 or £20,000 will be made to those with the most online votes.
Shona Nichols, CEO of the Aldridge Foundation said: "We're so proud to be chosen as a regional finalist and it's given everyone a massive boost. The last 18 months or so have been extremely challenging for many young people and has really stretched the charities that support them – like ourselves. Our work truly helps young people to have an equal chance of succeeding in life. We've achieved so much but we need to do more every day to reach many more deserving young people. We'd really appreciate if people would get behind us and start voting."
"If we could win any of the top three cash awards it would mean we could significantly expand our work and help change more lives. The funding would help the Foundation to continue its valuable work developing the life and employability skills of young people from areas of low socio-economic wealth so that they have the self-belief and confidence to aim high and push beyond the obstacles and barriers that others from wealthier communities don't have to face. We believe every young person should have an equal chance in life – your vote will help this happen."
She added: "Voting could not be simpler. Just visit www.persimmonhomes.com/building-futures/finalists and select the Aldridge Foundation – it would mean the world to us and the young people we work with if we could have your support."
Building Futures is delivered through the Persimmon Charitable Foundation in partnership with Team GB, the British Olympic Association.
Through Building Futures, a total of 128 grants of £1,000 have been awarded to groups supporting sport, education & arts and health across Persimmon's 31 regional businesses and its head office.
As well as the £100,000 first prize, there will be a £50,000 second prize and a £20,000 third prize in each category, while a further 87 shortlisted projects will each receive £5,000.
Online voting opened on Monday 11 October and runs until midnight on 19 November. You can show the strength of your support for your chosen charity by casting one vote every day until 19 November.
To support the Aldridge Foundation and help us to continue offering experiences and opportunities to young people in some of the UK's most disadvantaged areas in the North West, inner city London and South East, please visit www.persimmonhomes.com/building-futures/finalists.