Johansel's story: finding the resilience needed to succeed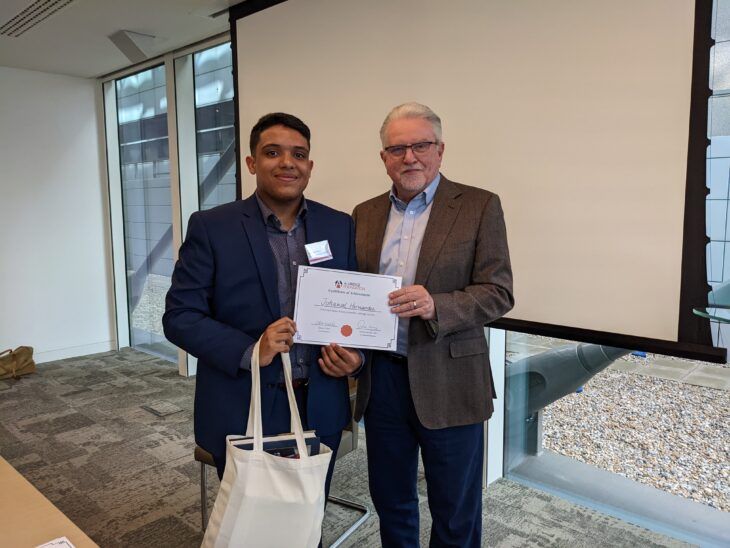 In this open conversation, Johansel tells us about how the Next Steps Bursary, combining financial and other tailored support, will help him to reach his true potential and achieve his dream of pursuing a career in medicine.
Can you tell us a bit about your background and why you felt that you deserved a Next Steps Bursary?
I felt that I deserved a Next Steps Bursary because I am a resilient person, and have always worked hard to achieve things.
After the 2008 financial crash my family had no access to a living and needed to move to where the jobs were – we migrated twice, from the Dominican Republic to Spain and then later to the UK. The financial hardship left my family making tough decisions about spending and saving money; something which I have learnt dearly about. When I arrived in the UK I also had the challenge of learning a new language and taught myself independently using books and dictionaries. Today I still struggle with some of the grammar but have come a long way with success at GCSE and now A-levels. Although challenging, these experiences have helped me develop resilience and a proactive approach to my education and future.
During my time at Kensington Aldridge Academy I contributed widely to the school community and enjoyed making an impact. I was proud to be chosen as Head Boy, after a rigorous interview process, and highlights of my time in this role include: introducing a composting system, leading on a student school improvement survey, leading strategic prefect meetings, presenting to the senior leadership team, mentoring younger students, looking after the well-being of the prefect team and ensuring the sixth form was integrated with the whole school community.
Giving back is something I strongly feel should happen when one has benefited from a lot of support and I look forward to continuing to help the next generation.
How will the support of a Next Steps Bursary make a difference to you?
Studying a STEM subject requires lots of contact time in the laboratory, therefore I would not be able to reasonably work part-time and study. I have thoroughly researched a number of grants and unfortunately for various reasons do not qualify under their narrow eligibility criteria, which would imply I am in a fortunate position; however, this couldn't be further from the truth. Next year I will be studying a significant distance from my parents' home, and as I come from a low income household, my parents are unable to support me for educational resources and other expenses. In addition to this, I am currently using a school Chromebook to study A-levels but I will have to return this at the end of my time at sixth form and then I will be without one. The financial support will allow me to purchase the IT equipment needed for my course and enable me to learn effectively and efficiently at university.
As I am the first person in my family to get into STEM, I will need external support and guidance which is why I am looking forward to the additional input of a mentor. For me, the aim of this relationship is to grow my confidence in academic and social networking and benefit from the sounding board and insight of someone who has experience.
What are your future aspirations and why?
I would like to pursue a career in medicine and I am also keen on academic research in the field of healthcare with an aim to reduce the cost of treatment for those from disadvantaged backgrounds. I am very interested in ways science and technology can be used to offer accurate and faster treatment. Ultimately, I want to become a humanitarian doctor and help people that are disadvantaged, which reflect my personal qualities of compassion, hard work and empathy.