Salma's story: a life-changing experience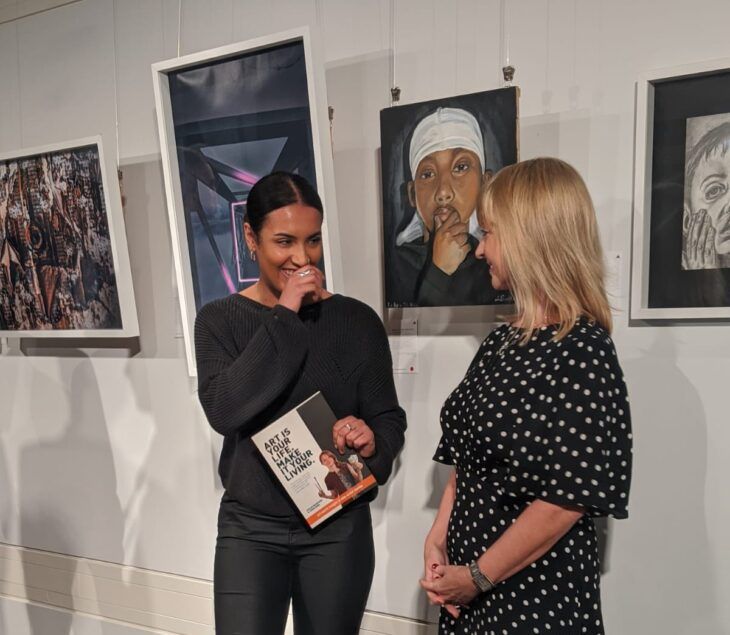 The Aldridge Junior Signature Art Prize was first launched in 2019 in partnership with Artellite, one of the first online graduate art galleries, and Callsign, a leading cyber security firm.
Students are invited to submit a piece of artwork in one of the following categories: Fine Art, Photography, Graphics, Film, Textiles. A panel of industry experts select a shortlist of 12 artists who are invited to visit some of London's top galleries, see what goes on behind the scenes of an art exhibition, attend a special preview event and be in with a chance of winning some incredible prizes. The overall winner is offered an internship with Artellite.
We spoke to Salma, from Kensington Aldridge Academy, winner of last year's Fine Art category.
Why did you enter the Junior Signature Art Prize?
As soon as my teacher mentioned the art competition in my A-Level art class, I was interested. The excitement of the concept alone was encouraging, and I couldn't wait to start the piece. I thought that this was the perfect way to kickstart my budding art career; in an environment with people who were knowledgeable and set in the art industry.
How did you feel when you found out that you – and your art work – had been selected as a finalist by the judging panel?
It felt surreal to be in the spot I had anticipated and worked to be in. As an artist, to have your piece being scrutinised and commented on so postively, was the best encouragement for me to make more – and better – pieces, to interest, inspire or hopefully resonate with people in the future.
You went on to be named Winner of the Fine Art category – how did you feel in that moment?
Emotional and incredibly grateful. It was a piece that meant a lot to me, and the fact that it had been selected, was overwhelming. I felt the warmth of the support from everyone and it was just as I imagined it to be.
Did the experience make a difference to you, personally or educationally? If so, how?
As this was the first ever art competition that I had applied to, and won, it was a huge motivating factor to enter even more competitions, without overly anticipating or stressing about the judging process. It definitely is a confidence booster in terms of my ability. To have a good response to your artwork creates an almost invincible bond, where all you want to do is create. I had doubted my decision many times prior to entering the Junior Art Prize, but through the help of my teachers at Kensington Aldridge Academy and through the opportunity provided by the Aldridge Foundation, that led me to win my first art competition, I had the best push to where I wanted to be.
What was your favourite part of the day, leading up to you being announced as Winner of the Fine Art category?
Honestly, I enjoyed every part of it. From seeing all of the shortlisted competitors, to stimulating my brain at the Somerset House exhibition/Tate Modern, to walking down the riverbank and taking pictures. Of course the most significant and memorable moment, was the moment my name was called as a winner. However, overall it was such an incredible experience.
Prior to this, had you ever entered a piece of work into an art competition / exhibition or sold a piece of work?
No, "The Boy In The Durag" was not only my first completed oil painting, and piece entered for an art competition, but also my first sold piece. I had just started up my commission prices, and selling it boosted my confidence in terms of pricing my work.
Did you overcome any challenges or learn anything about yourself during the experience – from the moment you entered the competition to being announced Winner of the Fine Art category?
While I looked at my work hanging up in the gallery, I realised I had constantly undermined it – even after I had been announced as the winner. I remember a moment where one of the judges, artist Khushna Sulaman-Butt, mentioned that I shouldn't judge my work as it had already been judged, and told me how good my piece was. As a perfectionist, it was only after that moment I realised I should have a sense of pride in my work, rather than mention aspects of my art that people most likely didn't even notice. Instead of putting myself down, pick myself up and proudly talk about my piece, and that is a moment I learned from.
What skills (in particular, the Aldridge Attributes) would you say you developed during the competition process? How?
The main skills that were developed during this process were: creativity, determination, risk-taking and passion.
Creativity – as the whole day had been an abundance of creativity, constantly stimulating my mind, understanding different concepts in the exhibitions we had attended as well as from all of the shortlisted pieces in the exhibition.
Determination – I felt that throughout the process of creating the piece, I was determined to at least get shortlisted and made sure that I put my all into it.
Risk-taking – this skill had been present throughout the competition process, from the moment of submitting, to coming to a decision to change my academic route and take a less conventional one into the creative industry.
Lastly, passion is a skill that I greatly developed. My passion for art and pretty much anything creative has thrived, not only settling to the decision of becoming an artist, but also wanting to consistently create in any form possible.
Do you think your experience has had a long-term impact on you? If so, how?
I think this experience is one of those moments which I'll look back on, at different points in my life, as an accomplishment, a 'first' for something I'm passionate about, and I'm grateful for that.
Have you / will you pursue a career in the art or creative industries? If yes, please tell us about what steps you have already taken and what your hopes for the future are?
Yes, I do hope to become a full-time artist/creative. I believe that I'll always paint, and hope for it to continue being a source of income in the future. However, I consider myself to be a generalist, I've never like being defined, or limited, in anything. Hence why I decided not to continue to university, and rather become self-taught in the many creative fields that spark an interest in me and becoming professional through experience. As of now, I've re-branded my business to "Kossari Selection" to allow a broad base, I am currently exploring photography/videography and illustration thanks to the opportunities with my current sponsor, as well as working with my traditional mediums of paints and further exploring my style and preferences.
Would you encourage fellow students to enter their artwork to the Junior Signature Art Prize? If yes, what would you say to them?
Most definitely! I think any student should be open in considering any form of expanding knowledge and experience – that's how you develop skills, networks and passions for life. Regardless of what you study, or intend on studying, I will always be someone who would encourage anyone to "dip your toes in the water", if you don't like it, you can stop, just like that! Life and opportunities that come with it, it's like open water, never-ending.
Personally, the Junior Signature Art Prize has changed me for the better, and it's experiences like that, which I'll always cherish and look for in the future.
You can find out more about Salma and see what she is currently working on here: @kossariselection