Aldridge Junior Signature Art Prize 2022 – winners announced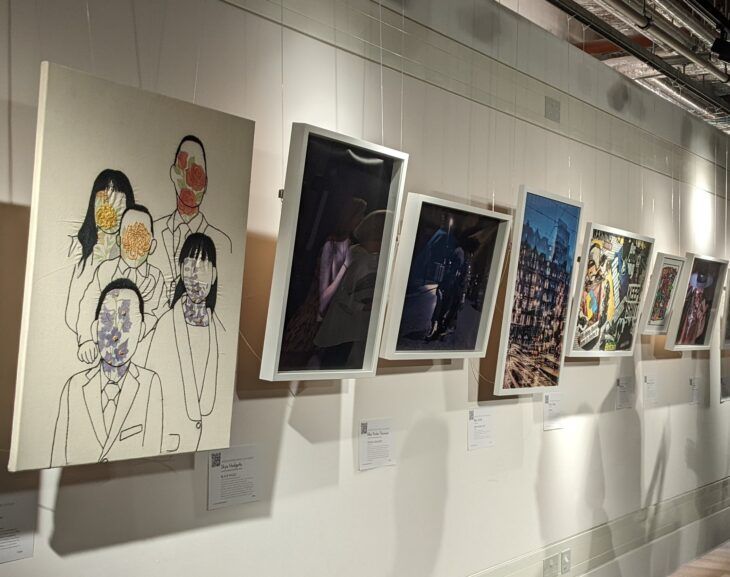 On Thursday 9th June, following an afternoon visiting some of London's top galleries, attending a celebratory lunch and hearing about the wider art world and the career paths it offers, our 15 finalists had their work proudly exhibited at the Bankside Hotel, alongside the Signature Art Prize. As well as the Aldridge Foundation team and supporters, the event was attended by artists, industry experts and art collectors. Our finalists were also given the option to put their artwork up for sale and out of the nine pieces of artwork that were, four of them sold!
These are such mature and emotional submissions. The entries and finalists really show the sense of belonging and comfort in their own skin that they have found as part of the Aldridge Foundation.

Elinor Olisa, Co-Founder & Director, Artellite Ltd
We're incredibly proud of the effort every student put into their pieces, demonstrating the diverse talent fostered through the family of Aldridge schools across the country.
The 2022 Aldridge Junior Signature Art Prize Winners were announced on the evening:
TEXTILES CATEGORY & OVERALL 2022 WINNER – Mai, Darwen Aldridge Community Academy alumni, for her piece: 'Family Portrait'
FINE ART CATEGORY – Manar, Kensington Aldridge Academy student, for her piece: 'Baghdad '99'
GRAPHICS CATEGORY – Eaun, UTC@MediaCityUk student, for his piece: 'Ukraine'
PHOTOGRAPHY CATEGORY – Riley, UTC@MediaCityUk student, for his piece 'Forth World View'
FILM CATEGORY – Holly & Ella, UTC@MediaCityUk student, for their piece: 'SPIKED'
We congratulate all of this year's winners on their success and wish overall winner, Mai, the best of luck in her Artellite internship. Art and creativity are crucial to many young people's development, teaching them dedication, hard work and attention to detail and we are proud to support so many talented young artists. This year saw a record number of entries and we hope that even more aspiring artists submit their artwork in next year's Aldridge Junior Signature Art Prize.
Eaun said: "Coming here and seeing my work in an exhibition is pretty big. I'm proud of myself."
The Aldridge Junior Signature Prize, generously sponsored by Callsign, inspires, informs and develops confidence in young people to raise their aspirations and explore how their talent could lead to a career in the arts or creative industry.
Holly and Ella said: "We believe that being chosen for this award will help us massively because it puts us forward from other artists and shows that we've got professionalism and can present ourselves around other artists and in the industry."
Peter Gabriel, Head of Brand and Creative, Callsign said:
"This year we were blown away by the calibre and imagination of all the award entries, including the nominees and, every student should feel immensely proud of their work. We were also very pleased to hear that the number of entries have again grown this year, demonstrating the need for programmes like the Junior Signature Art prize to encourage and inspire budding young artists, and to show that art can offer alternative career paths.
The feedback from participants is why we continue to sponsor the prize, and judging the awards is the highlight of my year."
You can view the winning artwork and the rest of the finalist's entries here: Aldridge Junior Signature Art Prize 2020/21 finalists