Tottenham students swap London for Sussex countryside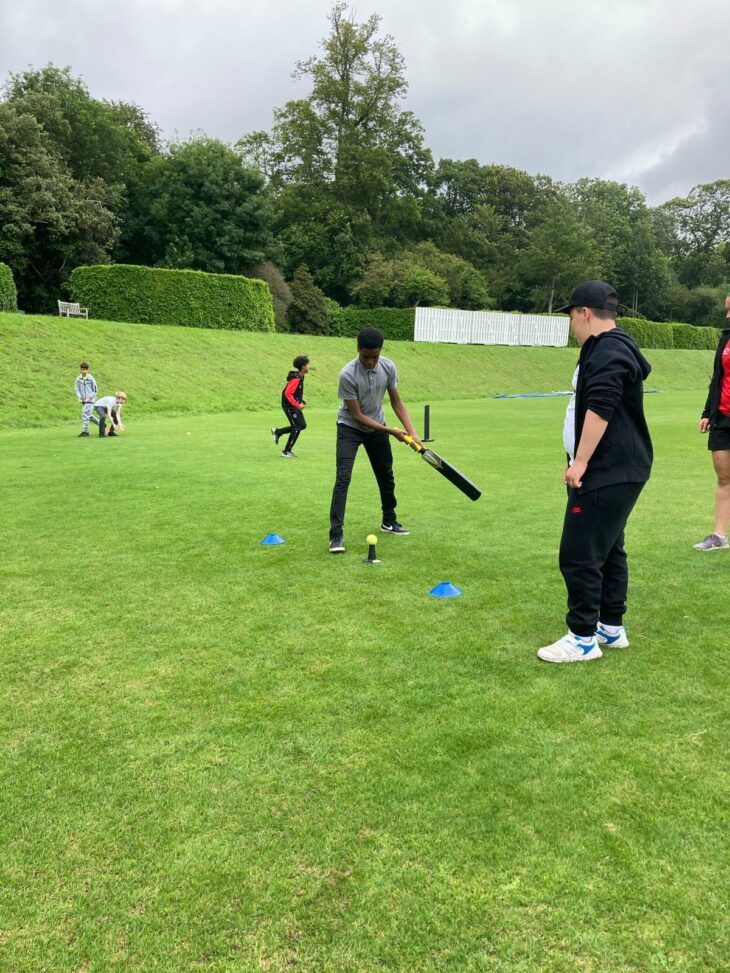 A group of year 9s from Duke's Aldridge Academy, in Tottenham, headed south for a three-day residential stay hosted by the Arundel Castle Cricket Foundation – combining sport, life skills and adventure challenges.
The Arundel Castle Cricket Foundation (ACCF) programme is designed to help students, from challenging areas or backgrounds, develop confidence and discover new skills. The residential stay, funded by ACCF and Aldridge Foundation, gave the 25 students the opportunity to leave London, the first time for many since the start of the pandemic, and head to the countryside for a whole range of outdoor activities and experiences.
As well as honing their cricket skills, the students enjoyed the surrounding countryside and woodland, building dens and camp fires, visited the beach and explored the stunning Arundel Castle and gardens, learning about the history of the area. Activities such as these all help broaden cultural capital – a key part of upward social mobility. Students were also encouraged to focus on their wellbeing, with time and space to reflect among beautiful green surroundings.
Here's what the students had to say about their experience:
"It was such a lovely experience. In Tottenham it's just concrete, and sometimes you can feel really closed in. Arundel was absolutely beautiful, with greenery, birds singing and the castle was amazing."
"We've been stuck in lockdown for such a long time. This trip really helped. I did things I wouldn't normally have done and it actually felt like I was releasing negative energy and creating something positive."
It was so green compared to Tottenham, which is grey and boring. I loved the castle and playing cricket, but I really enjoyed the den building, and working as a team. I feel like I'm good at teamwork now, which will help me in school too.
Tim Shutt, Director, Arundel Castle Cricket Foundation said:
"We are adamant that the education-rich experiences we offer here are provided to those that will benefit most and this was certainly the case for the Duke's Aldridge Academy students. These young people live in a very urbanised area, some face very challenging circumstances, so to offer them the range of experiences we do here at Arundel was a pleasure. For many, the activities were a 'first' for the young people, whether it be their first time away from home, or first go at cricket, but they all embraced them with wonderful enthusiasm".
Shona Nichols, Chief Executive, Aldridge Foundation, said:
"This was an amazing opportunity for the young people we support to take part in new activities, spend time outdoors, develop new skills and experience different surroundings away from their usual environment. Sports and outdoor activities are an amazing way to benefit young people's health and wellbeing, help build important life skills and increase self confidence. They are also two of Aldridge Foundation's main focus areas, which is why this residential trip and our partnership with the Arundel Castle Cricket Foundation, is so important to us."
Going forward, we're keen for this trip to be an annual event for all year 9s from Duke's Aldridge Academy, as part of our overall programme to incrementally build 'non-curriculum' skills during their time at school, so are looking for funds to help this happen. If you can help in any small or larger way, please follow the link below.