Lauren's story: the determination to try again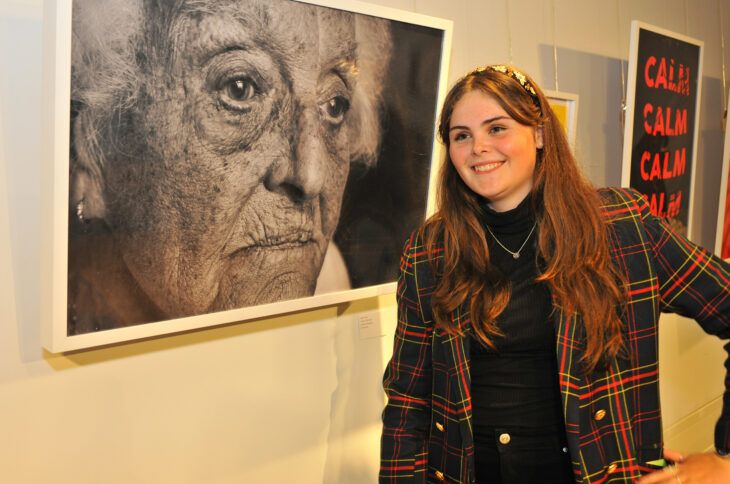 The Aldridge Junior Signature Art Prize was first launched in 2019 in partnership with Artellite, one of the first online graduate art galleries, and Callsign, a leading cyber security firm.
Students are invited to submit a piece of artwork in one of the following categories: Fine Art, Photography, Graphics, Film, Textiles. A panel of industry experts select a shortlist of 12 artists who are invited to visit some of London's top galleries, see what goes on behind the scenes of an art exhibition, attend a special preview event and be in with a chance of winning some incredible prizes. The overall winner is offered an internship with Artellite.
We spoke to Lauren, Darwen Aldridge Community Academy Alumni, winner of the 2020/21 Photography category with her piece entitled 'The skin of our lives'.
Why did you enter the Aldridge Junior Signature Art Prize?
I first entered the art prize in 2019 for the Fine art category. Unfortunately, I didn't win. When I heard that I could enter again, I was up for the challenge. This time, I wanted to make my work more personal and show people how my skills have developed in the past year.
Which of the Aldridge Attributes do you feel you demonstrated when creating your artwork? How?
I think I showed passion and determination. After 2019 I was determined to do better and return the following year with a piece that represents me as an artist. Having my Nana as my main focus for my work, made me more passionate about what I do and why I love it so much. Family means everything to me, and to have the opportunity to show that through something that I love was amazing.
How did you feel when you found out that you – and your art work – had been selected as a finalist by the judging panel?
When I found out that my work had been shortlisted, I was not only grateful but also proud of myself for getting this far into the competition. Seeing my Nana's photograph up on the wall reminded me why I love art so much.
You went on to be named Winner of the Photography category – how did you feel in that moment?
Having my name announced as the winner of my category was just the cherry on the cake. I was so proud and grateful to have had the opportunity that I did.
Did the experience make a difference to you, personally or educationally? If so, how?
I think before I entered the Junior Signature Art Prize, I was quite reluctant and scared about entering the art world. I wasn't sure if I wanted to become an artist or whether it was the career path for me. When I was announced as a finalist and then the winner of my entered category, I felt so overwhelmingly proud of myself that I knew this was the future for me. While I was at the exhibition, I had the chance to talk to other artists and ask them about their own experiences in the art world. This has helped me to get where I am today.
Do you think your experience has had a long-term impact on you? If so, how?
I definitely think this opportunity has had a long-term effect on me. It changed my whole perspective of Art and what comes with being creative. It taught me that you can have a career in something that you love and enjoy.
Where are you now?
Currently I am doing a UAL Foundation Degree in Art and Design at Blackburn College. We have just started our final project of the course, studying how shape and pattern can effect how the human body moves and looks. We have also recently had the opportunity to work collaboratively with Fashion Designer and judge on the BBC's Great British Sewing Bee, Patrick Grant, on a project for his company.
Have you / will you pursue a career in the art or creative industries? If yes, please tell us about what steps you have already taken and what your hopes for the future are?
I think I will always be in the Creative industry no matter what I am doing or where I am. I have applied to five different universities, where I hope to study Fashion Design. After university, I'd love to get a job in fashion design, creating collections for different brands or companies.
What advice would you give to students entering the Aldridge Junior Signature Art Prize this year?
I know a lot of students will be scared or nervous about entering, as this is an amazing opportunity that not many young people get a chance to participate in. The creative industry is about taking risks and thinking outside the box, but it can also be daunting to walk into. If everything doesn't work out the first time, there will always be many more opportunities in the future. Take this opportunity head on because I promise you, you won't regret it.
It gave me a chance to see what my future could look like, which has made me more determined in life. Another thing that I have taken away from this trip is to never doubt yourself. Whatever life throws at you, believe that you can do it.
You can find out more about Lauren and see what she is currently working on here: @art_by_laurenlouise